Fall has arrived and so have our seasonal favorites! Pumpkin is a popular fruit that is not just fun to carve but, very delicious when incorporated into recipes.
Since pumpkins are earth-derived, they are healthy and fresh around this time of year. Better yet- you can go to the farm and pick a pumpkin specially for you and your meals.
The Benefits of Pumpkins
Pumpkins are a part of the Cucurbitaceae family. There are many great benefits that come with incorporating pumpkins.
Pumpkins are highly nutritious, having a rich amount of vitamins. These vitamins include immunity boosters such as Vitamin A, Vitamin C, Vitamin B2, and Vitamin E.
The high antioxidant content of pumpkins is credited towards the alpha-carotene, beta-carotene and beta-cryptoxanthin. These can neutralize free radicals, stopping them from damaging your cells.
Pumpkins also promote healthy skin. They contain a large amount of carotenoids like beta-carotene that can protect the skin against sun damage. In fact, one cup (245 grams) of cooked pumpkin packs 245% of the RDI.
With all of these benefits, you can improve the health of your skin and lower the risk of cancer, eye diseases and other conditions.
Here is a detailed breakdown of one cup (245 grams) of pumpkin:
Calories: 49
Fat: 0.2 grams
Protein: 2 grams
Carbs: 12 grams
Fiber: 3 grams
Vitamin A: 245% of the Reference Daily Intake (RDI)
Vitamin C: 19% of the RDI
Potassium: 16% of the RDI
Copper: 11% of the RDI
Manganese: 11% of the RDI
Vitamin B2: 11% of the RDI
Vitamin E: 10% of the RDI
Iron: 8% of the RDI
Roasted Pumpkin Seeds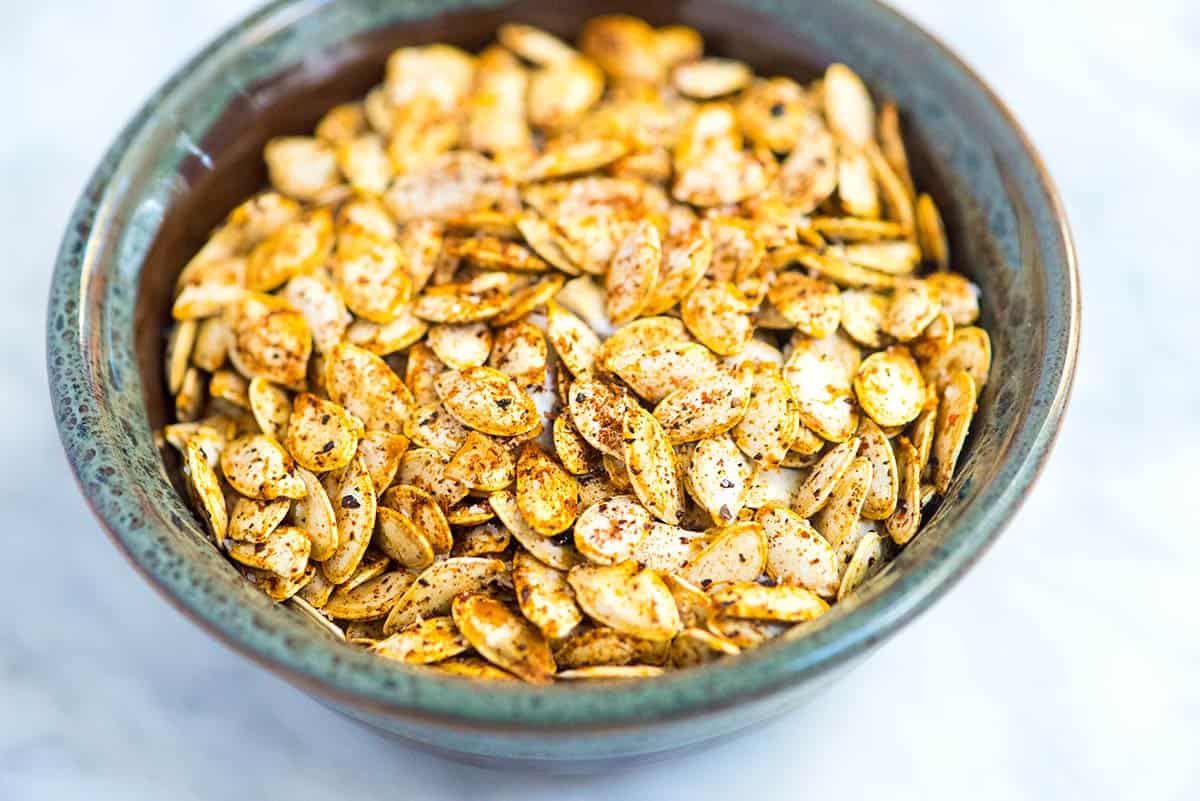 Roasting pumpkin seeds is super easy and fun! You can incorporate your favorite seasonings and your home is sure to fill with the sweet aroma of autumn.
The process is simple and most of the ingredients are probably already in your pantry!
Ingredients:
1 1/2 cups pumpkin seeds
2 teaspoons fine sea salt, plus more for servin
g
2 teaspoons olive oil, melted coconut oil or nut oil like walnut
2 teaspoons your favorite spice blend such as curry powder, harissa and chili powder
Directions:
Heat the oven to 350 degrees F. Line a baking sheet with parchment paper.
Fill a medium saucepan with about 2 cups of water and season with 2 teaspoons salt. Bring to a boil.
Meanwhile, scoop the seeds from your pumpkin. Add the pumpkin seeds to a bowl filled with cold water and swish them around until the seeds float and are mostly clean.
Add cleaned seeds to the boiling salted water. Simmer for 5 minutes. Drain and pull away any remaining pumpkin attached to the seeds.
Scatter the seeds onto clean dishcloths and pat them very dry. Mound the dried seeds onto the prepared baking sheet. Add the oil and any spices on top then toss until well coated. Spread the seeds into one layer. Bake, stirring the seeds at least once, until fragrant and golden around the edges, 10 to 25 minutes, depending on how large the seeds are.
Pumpkin Pie Bites
Pumpkin Pie can become an easy and quick snack for you and your crew! These yummy bites only take ten minutes to make and do not require any kind of baking.
These pumpkin bites pair great with iced coffee, and fall lattes such as pumpkin spice.
Ingredients:
1 cup

 raisins or dates*

½ cup

 pecans, cashew pieces, or walnuts

⅓ cup

 pumpkin puree

¼ cup

 unsweetened shredded coconut

1 teaspoon

 vanilla

½ teaspoon

 pumpkin pie spice*
Directions:
Place raisins in a bowl and cover with hot water. Let them soak for 10 minutes, and drain water making sure to squeeze out excess water from raisins. Omit this step if using dates.
In a food processor, place raisins and nuts, until they are finely ground and have formed a paste. Then add pumpkin puree, coconut, vanilla, and pumpkin spice (or cinnamon, nutmeg, or cloves).
Pulse a few times until combined. Use a spatula to scrape the sides of the bowl and combine the ingredients. Remove the blade and place the food processor bowl in the refrigerator for 30 minutes.
Once cooled and the texture has thickened, proceed to form small balls with the dough using your hands.
Refrigerate pumpkin snack bites in an airtight container for up to 5 days.
Pumpkin Chili
Ingredients:
1 tbsp.

olive oil

1 lb.

ground spicy Italian sausage

1

onion, chopped

1

red bell pepper, chopped

3

garlic cloves, chopped

1 1/2 tbsp.

chili powder

2 tsp.

ground cumin

1 tsp.

kosher salt, plus more to taste

3/4 tsp.

ground black pepper, plus more to taste

1/2 tsp.

ground cinnamon

2

15 oz. cans fire-roasted tomatoes, not drained

1

15 oz. can kidney beans, drained and rinsed

1

15 oz. can black beans, drained and rinsed

1 

15 oz. can pumpkin puree

2 1/2 c. 

chicken broth
Directions:
In a large Dutch oven, heat the oil over medium heat. Add the sausage and cook, stirring to break into pieces, until browned and cooked through, 8 to 10 minutes. Using a slotted spoon, transfer the sausage to a paper towel lined plate to drain.
Add the onion and bell pepper to the Dutch oven. Cook over medium, stirring, until softened, 10 to 12 minutes. Stir in the garlic, cumin, chili powder, 1 teaspoons salt, 3/4 teaspoon pepper and cinnamon. Cook, stirring, for 30 seconds.
Stir in the tomatoes, kidney beans, black beans, pumpkin puree, chicken broth and sausage. Bring to boil over medium-high. Reduce heat to medium-low, cover and cook, stirring occasionally, until the flavors meld, about 20 minutes.
Season the chili with salt and pepper. Serve, garnishing with pumpkin seeds, sour cream, cheese and avocado, if desired.
Pumpkin Lasagna
Lasagna always pleases the crowd. Spice it up this season with pumpkin!
There are a lot of ingredients needed for this recipe but, trust us when we say they are worth the unforgettable combination of flavors once completed.
Ingredients:
2 tsp.

kosher salt, plus more for the noodles

18

lasagna noodles

1 tbsp.

salted butter

2 tbsp.

all-purpose flour

3 c.

whole milk
Black pepper, to taste

1 1/3 c.

grated parmesan cheese
Pinch of grated nutmeg
Pinch of cayenne pepper

1 1/2 c.

pure pumpkin puree

1

16-ounce container whole-milk ricotta cheese

4 c.

shredded mozzarella cheese (about 1 1/2 pounds)

1

large egg, beaten

2 tsp.

chopped fresh sage, plus more for topping
Directions:
Preheat the oven to 375˚. Bring a large pot of salted water to a boil. Add the lasagna noodles and cook until al dente. Drain, rinse under cold water until cool and lay flat on a large sheet of foil.
Melt the butter in a medium saucepan over medium heat. Sprinkle in the flour and whisk until sandy, 1 minute. Slowly pour in the milk, whisking constantly. Season with 1 teaspoon salt and a few grinds of pepper. Bring to a gentle simmer, whisking occasionally, and cook until the sauce thickens a little, about 10 minutes. Whisk in 1/3 cup parmesan, the nutmeg and cayenne until melted.
Add 1 cup pumpkin puree to the sauce and whisk until smooth. Set aside.
For the filling: Combine the ricotta, 2 cups mozzarella, ¾ cup parmesan, the remaining ½ cup pumpkin, the egg, sage, 1 teaspoon salt and a few grinds of pepper in a large bowl and stir to combine.
To assemble, spread ½ cup of sauce in a 9 x 13-inch baking dish. Spread 2 to 3 tablespoons of the ricotta filling on each noodle, then roll up to enclose the filling. Arrange seam-side down in the pan.
Top with the remaining sauce, 2 cups mozzarella and ¼ cup parmesan. Sprinkle with sage. Loosely cover with foil. Bake for 15 minutes, then uncover and bake until bubbly, about 10 more minutes. Let it sit for 15 minutes before serving.
Pumpkin Ravioli
This quick-and-easy pumpkin ravioli is made with browned butter, pine nuts and sage.
This pumpkin plate can make a great Thanksgiving appetizer or a weeknight fall meal!
Ingredients:
For Filling
2 tbsp.

salted butter

2

cloves garlic, finely chopped

1

5 oz. can pumpkin puree

1/4 tsp.

kosher salt

1/4 tsp.

chili powder, plus more to taste
For the Ravioli:
1/4 c.

pine nuts

1/2 c.

salted butter

36

whole wonton wrappers

1

egg
Black pepper, to taste
Fresh parmesan cheese, optional
Thinly sliced fresh sage leaves
Directions:
For the filling: Melt the butter with the garlic in a skillet over medium heat and cook for 1-2 minutes to release the garlic flavor. Add the pumpkin puree, salt and chili powder. Stir and cook over medium heat for 4-5 minutes, until the puree is less watery and slightly thickened. Remove from the heat and let cool slightly.
For the ravioli: Toast the pine nuts in a small skillet over medium-low heat, tossing occasionally, until golden, 6-8 minutes. Remove from the heat and pour the pine nuts onto a small plate.
In a small skillet (you can use the same one you toasted the pine nuts in) brown the butter by melting it over medium-high heat, then let it cook and bubble for an additional 4-6 minutes or until the foam is golden brown. Transfer it to a heatproof bowl.
Lay out 18 wonton wrappers and put 1 tablespoon of the pumpkin filling in the center. Beat the egg with 1 tablespoon of water. Using your finger, smear the egg mixture all over the surface of one of the wrappers surrounding the pumpkin. Place a clean wrapper on top, matching up the edges. Press the edges together and use your fingers to press out any air pockets that form. Repeat with the rest of the wrappers. (Keep in mind the wrappers dry out quickly, so you might want to assemble 9 ravioli at a time, keeping the other wrappers covered. If you like, you can trim the raviolis using a circular or square cutter to make the edges uniform. Totally optional!)
Bring a pot of water to a boil. Drop 3 ravioli at a time into the water and cook for about 2 minutes. Remove with a slotted spatula and put the ravioli on a plate. Continue cooking the ravioli in batches of 3.
To serve, spoon a little browned butter onto each plate and smear it around. Place 3-4 ravioli on each plate, then spoon a little more browned butter over the top. Sprinkle on the toasted pine nuts, black pepper, and shaved Parmesan, if desired. Finally, sprinkle on the sage and serve!
We hope you enjoy making these snacks and meals during this spooky season!
For more articles from us, click here!
We always want to be transparent and honest about our article content. From time to time, we may link to products and services that compensate us for the referral. This does not affect your cost, but it does help us fund future content for this site.